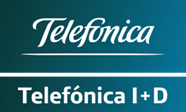 Telefonica I+D (TID) is the innovation company of the Telefonica Group. It is the largest private research and development lab in Spain, and the most active European company in terms of European ICT research projects.
TID's expertise on privacy, security, systems, and social network analysis has been demonstrated via dissemination of knowledge in top tier venues as well as commercialization of research discoveries. For example, in the realm of privacy and security, TID is the founding member of the Data Transparency Lab which is a community of technologists, researchers, policymakers and industry representatives working to advance online personal data privacy through scientific R&D.
TID is continually looking to move technology out of the lab and into the hands of consumers. Thus seconded researchers will be expected to tune and deploy their methods using the commercial scale infrastructure, datasets, and big data knowledge of TID for eventual consumer adoption.
In particular, TID will work with seconded researchers to further develop and apply their methods to the Tuenti online social network, as well as the Awazza mobile web proxy.
Likewise, TID researchers seconded to CUT and AUTH will gain intimate knowledge of user activity as well as sentiment and affective analysis techniques to help understand customers and provide new services to them.
Contact information : 
Website: http://www.tid.es/
Name : Nicollas Kourtellis
E-Mail : nicolas.kourtellis@telefonica.com